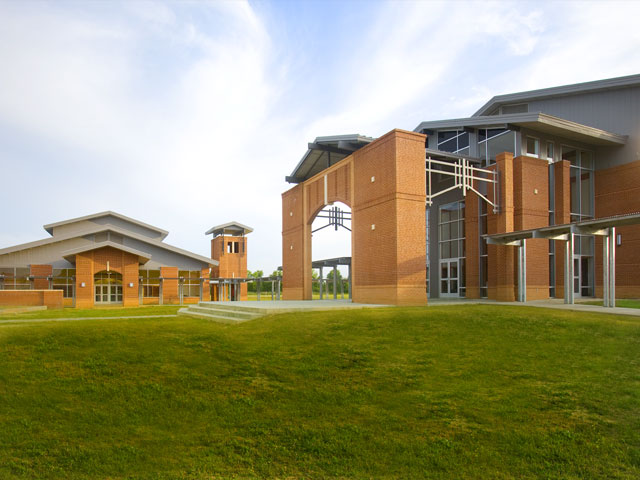 Avoyelles Public Charter School
A Public Charter School including a new classroom, administration building, gymnasium and state-of-the-art performing arts facility. This was a high school expansion of an existing elementary public charter school. Three new facilities (along with existing) frame a new quadrangle. Traditional and modern materials are combined to express a regional modernism with roots in the community.
The project goal was to take the school's past, vision, existing buildings and educational reputation and create a campus that inspires and facilitates student learning and achieving. Furthermore, it was to Design a facility which demonstrates to students and faculty that inanimate building materials can awaken students and visitors to the limitless joy of life-long learning.
On axis with the main entry to the site, the main classroom building provides a gateway to the campus and creates an iconic anchor point for the school. The new structures in conjunction with the existing facilities create a new quadrangle and student gathering area which also serves as an amphitheater for outdoor functions and performances. Primary materials for the expanded campus include brick masonry, steel wall panels, and glass curtain walls. Brick retaining walls border the quadrangle while galvanized steel canopies provide weather protection for pedestrians. The performing arts building is the centerpiece of the new campus with an entry plaza designed as an outdoor stage complete with lighting and sound controls. A bell tower structure provides an axial connection between the gymnasium, performing arts buildings, a future building site, and the bus loading area. Clerestory windows provide natural lighting within the gymnasium.
A library, reading areas and a student commons area occupy the iconic space of the classroom building. Primary vertical circulation is achieved by a centralized monumental stair made of painted steel and cast stone. Warm wood tones soften the scale of the lobby academic areas. Stained concrete was utilized within all of the new facilities as a low maintenance and sustainable finish. Natural daylight and bright finishes within the gymnasium reflect the energy and excitement of athletic activities. The lobby also functions as a cafeteria serving area for the high school students.