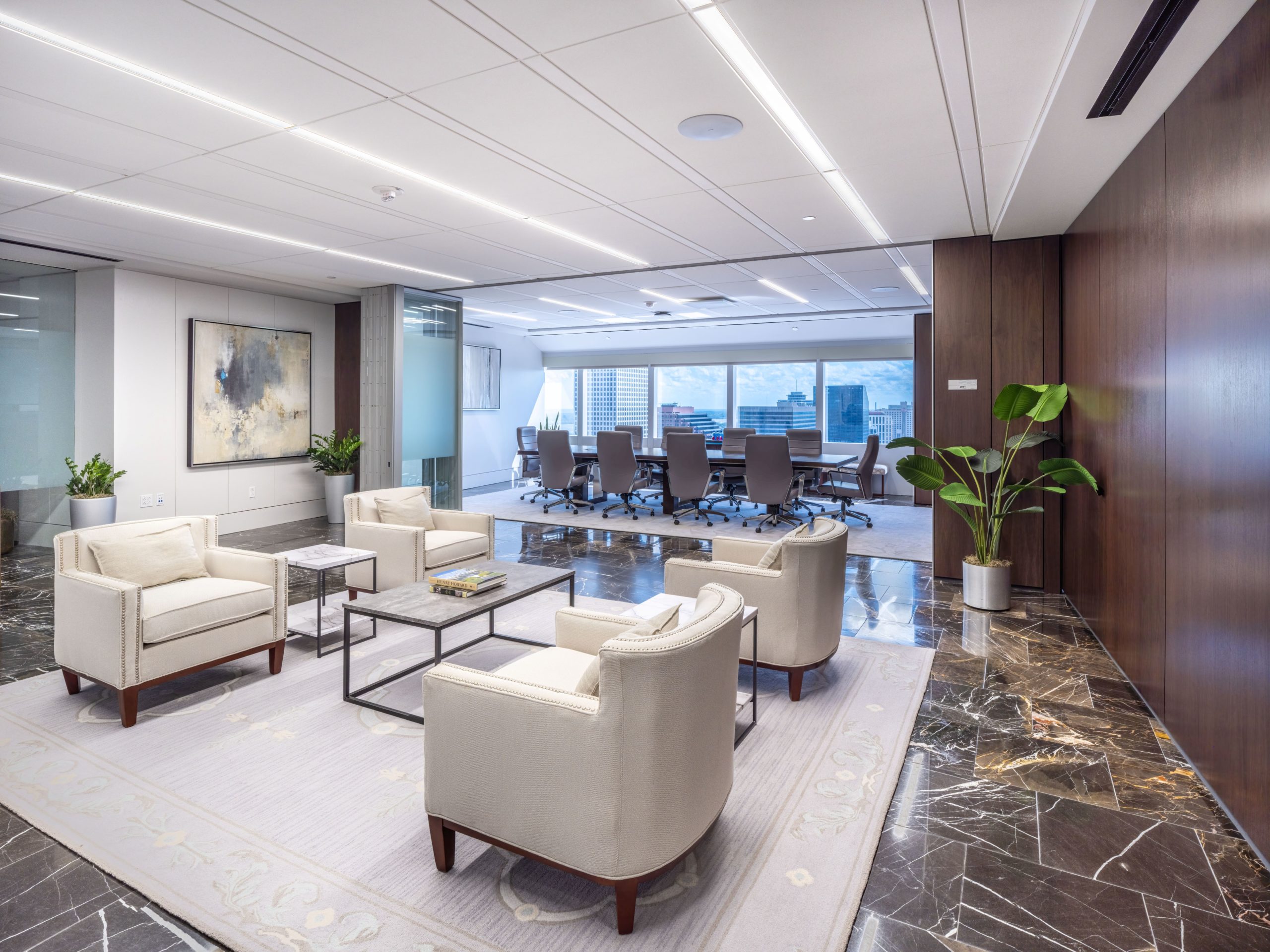 Corporate Headquarters – Executive Floor
The 28th floor of this high-rise office building in the New Orleans Central Business District served as the executive area for the company's headquarters. The space had not been renovated in over 25 years and was in need of an update to modernize the form and function. The public interface areas included the lobby, a new conference room, the main corridor, and ante room. The staff interface areas included a corridor and the adjacent administrative work area, which serves the executive offices.
The lobby area was reduced in size with the addition of a new conference room in the space. A fully operable glass wall separates the conference room from the lobby and can be opened to create a larger space for entertaining. The new conference room includes full technology for productive meetings. The existing marble tile flooring remained, but all other finishes were updated to provide a modern look. The existing light wood paneling was refinished in a white tone, while the existing mahogany raised panel walls were faced with new, sleek walnut veneer walls. The DIRTT wall system was used and placed in front of the existing mahogany walls in order to reduce downtime during construction and to provide a consistent look throughout the lobby, conference room, and corridor. All new linear ceilings and MEP systems were incorporated as well. The ante room was reoriented to provide better flow for serving and entertaining. Custom DIRTT millwork was added to provide storage and serving surfaces. The administrative work area was reorganized to create a more open space. Custom reception desks were designed for each administrative personnel, and seating areas with a residential feel were included in keeping with the design of the existing executive offices. New furniture was provided throughout the spaces. New artwork was curated from local artists and galleries in order to create a warm, welcoming, modern space for the company's executive area.