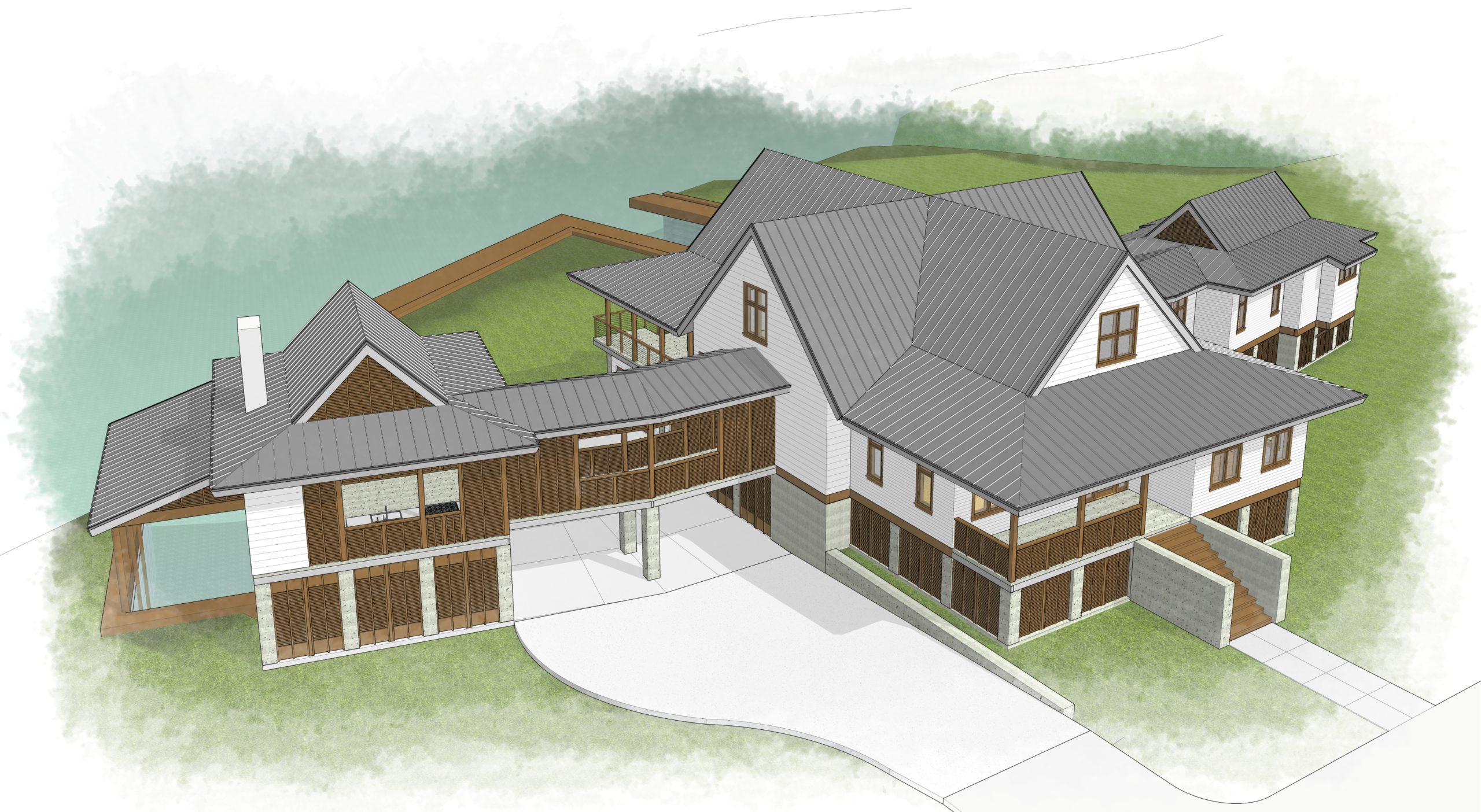 Duvic Residence
The Duvic Residence is located in a residential neighborhood in Slidell, La along Bayou Bonfouca.The site has two existing boat slips with access to the bayou, and two Live Oak trees along the East and West edge of the property.
The elevation of the site is approximately 7'-0" above sea level, and the base flood elevation is approximately 12'-0".With the property being in a food zone, the owners wanted to raise the first floor of the house above the base flood elevation and create guest parking on the ground floor. Though the house needed to be raised a minimum of 8'-0" to fit a garage underneath the first floor, the owners wanted to minimize the look of a raised house. This led to the idea of building the landscape up towards the front of the site and creating a crawl space with wood slats around the perimeter so that the house appears to only be raised 5'-6" from the street, while the south side of the house conceals a two-car garage, an outdoor terrace facing the bayou, and a stair and elevator tower that connect the ground floor with the first floor of the house. This wood slat look also attributed to the West Indies architectural style that the owners desired.
The residence is arranged in three living pods that are oriented around the bayou. The west pod is an outdoor party room that functions as an outdoor kitchen and game room for the family. The central pod is two floors which houses the living spaces including the kitchen, dining room, living room, office, 3 bedrooms, and 3-1/2 baths. The east pod contains the master suite including a large master closet and bathroom.
The front entrance to the house features a large stair and a north-facing front porch, while the back of the house features a south-facing porch off the dining room with views to Bayou Bonfouca.