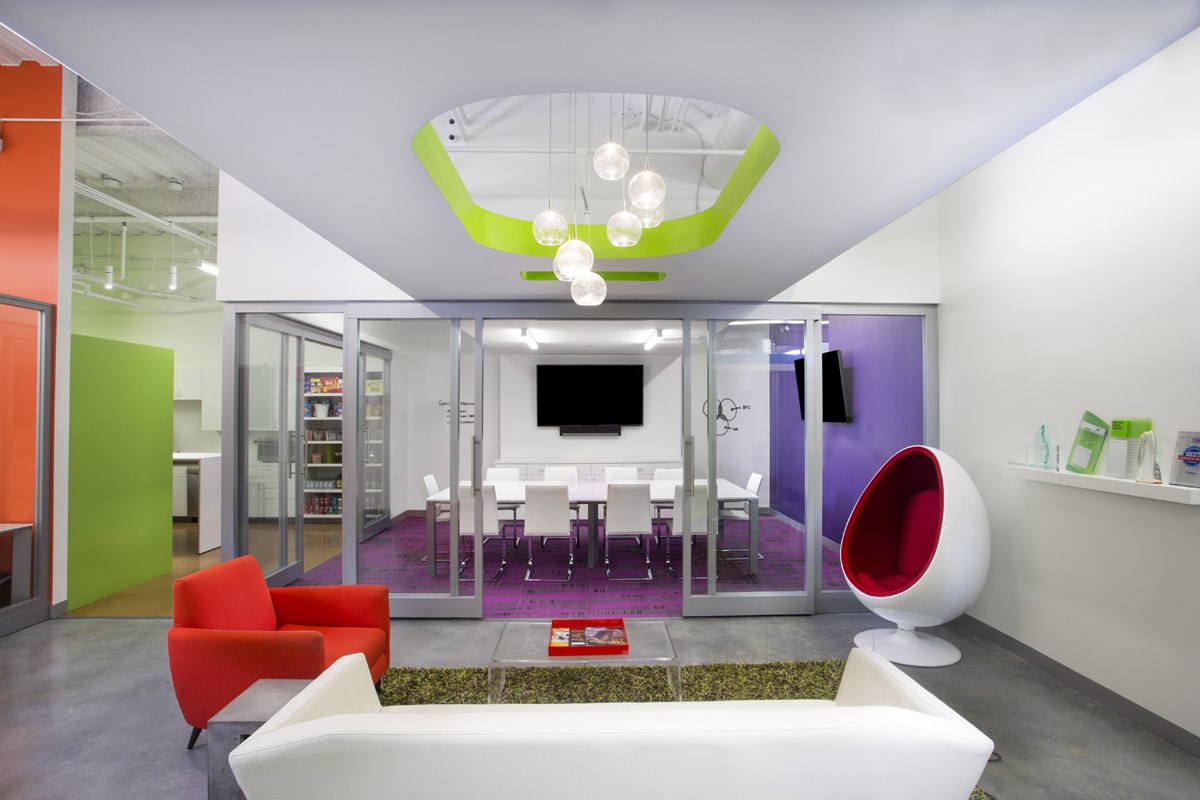 Envoc Tenant Build-out
Envoc is a full-service digital agency with services ranging from custom software and mobile app development to web design and branding. Envoc's goal is to create a better reality. When they outgrew their original, building-standard office space, the company decided to move to a larger space to accommodate growth and create an environment better aligned with its culture. The project goals were to (1) create a better reality for clients and employees, (2) attract new young talent, and (3) be innovative. The design tools utilized by H/S were: to provide spaces for impromptu collaboration, to offer a palette of place (employees can choose where they want to work), to provide a palette for posture (stand up, sit down, walk, lounge, swing), to provide natural lighting for employee wellbeing, and to make the space vibrant, fun and unique. The concept of dividing the space into zones of Think, Work, Play came from the organization of Envoc's website. The Think zone includes collaborative/meeting spaces, the Work zone includes offices, and the Play zone includes the hospitality room, lounge, and swing area. These zones are color-coded by using flooring and paint selections. The color palette for the space took from Envoc's branding standards. H/S worked closely with the client to incorporate those branding standards into the space.
Beyond the reception area is a lounge space that looks into the main conference room. A suspended gypsum board ceiling, with Envoc's "O" cut into it, connects the lounge space to the conference room. When the double sliding conference room doors are open, the two spaces can function as one, which is especially useful for large meetings or events. The conference room also features writeable paint on one wall for jotting down ideas. Also adjacent to the conference room is the hospitality area used as a break room for staff and an entertaining space for clients. The custom made booth enclosures give a sense of privacy to users. Another meeting room and a smaller nook are also available for smaller gatherings or "think" time. The largest block of offices is in the center of the space. To keep the structure above exposed, H/S designed a lower height enclosure to define the space. Two sides of the office block are full-height glass, with sliding doors to reduce the amount of space needed. The existing space had exposed X-bracing bisecting a large portion of it, which was converted into a feature element with a writeable glass for inspiration. A custom-made steel structure with the "O" cut into it provided the perfect place to hang the office swing. It has become a regular occurrence for Envoc to feature #clientsintheswing.