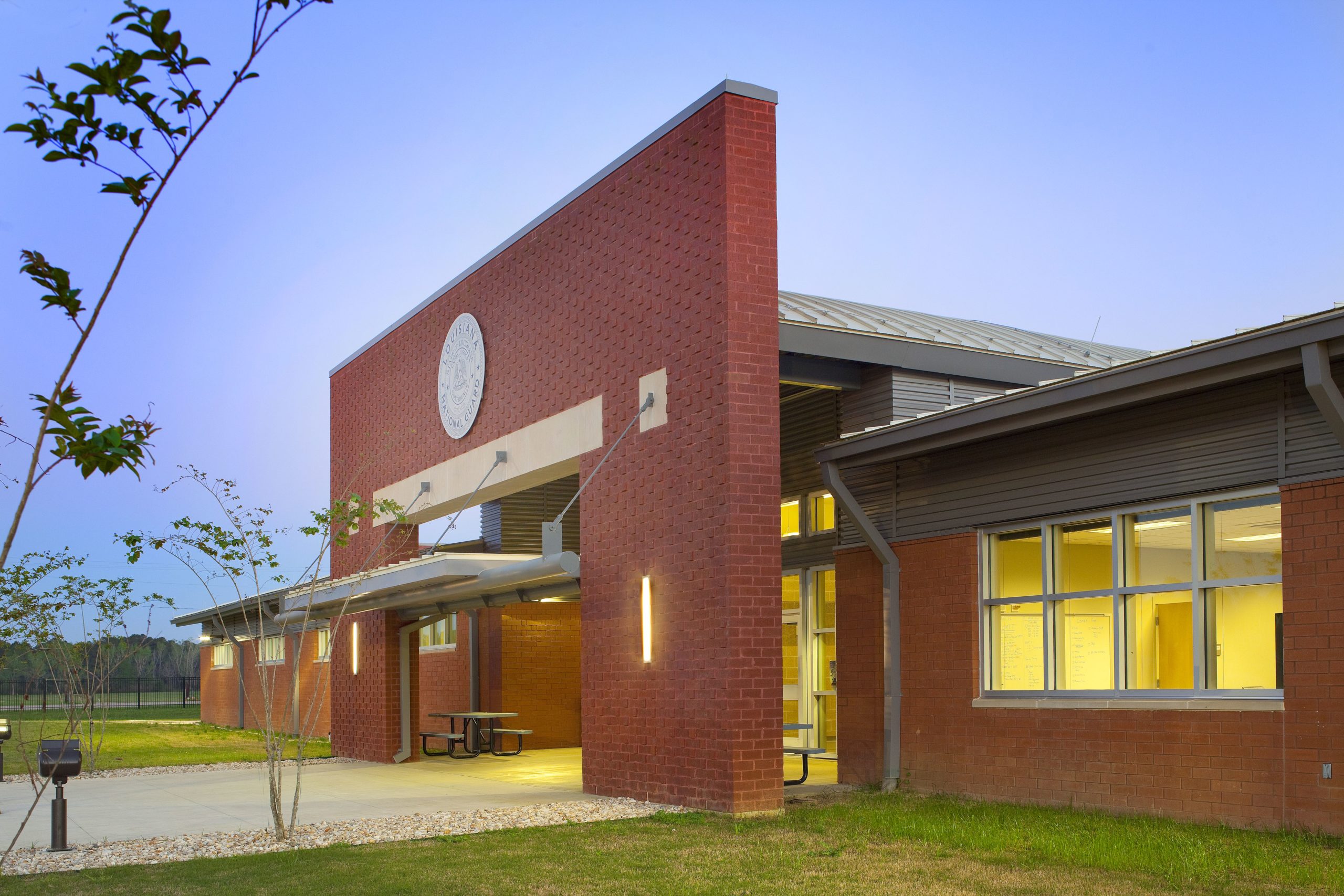 Franklinton Readiness Center
The 41,321 sq. ft. Readiness Center is located within the Franklinton Industrial Park in Franklinton, La. This project includes the Readiness Center, a Maintenance Building, POV parking and parking for 147 military vehicles. The facility will house 3 full time occupants and 105 part time occupants for a total of 108 soldiers. The hours of operation will consist of administration for 5 days per week with 2 day training assembly 2-3 times per month.
The building is designed to achieve a Silver LEED Certification. The materials consist of concrete block and brick masonry walls with an air space, R-19 rigid board insulation, and membrane water proofing. All glazing is "Blast Rated" as required for the VERY LOW/LOW Threat Assessment. The glazing, as proposed, will be positioned to minimize the penetration of direct sunlight into the space while maximizing the daylighting of those active areas. The glazing system is a curtain wall system with insulated tinted and reflective glass that meets both the ATFP blast resistance and the International Building Code – 2012 large missile (hurricane) projectiles. Polycarbonate glazing is used in the glazed openings of the Assembly Hall. The roofing system is a standing seam metal roof with double folded seams with insulation on a heavy gauge structural steel deck. The roofing system is designed to resist 120 mph winds, Exposure "C", Importance Factor 1.15, Factor of Safety 2. Exterior Doors consist of insulated galvanized steel doors and frames, aluminum and glass doors and frames and rolling insulated overhead doors, all designed to meet the ATFP Blast Ratings and IBC- 2003 requirements.
The 12.392 acres, accommodates all of the POV and Military Vehicle Parking as well as a flammable material storage building with a control waste storage handling room, the Wash Rack, Fueling Station, and Parking for the Fueling Truck. An oil/water separator is provided to serve the Fueling Truck Pad, the Wash Rack, and the Fueling Station and Tank. A 50kW solar power system was provided and interconnected to the power distribution system. The site storm water management plan was designed for both LEED SS Credits 6.1 & 6.2, Storm water Design – Quantity and Quality Control. The project retains all excess storm water runoff on-site by the design and construction of a bio-retention/detention pond in the northwest portion of the project site.
Gold-level certification from the U.S. Green Building Council's Leadership in Energy and Environmental Design (LEED)