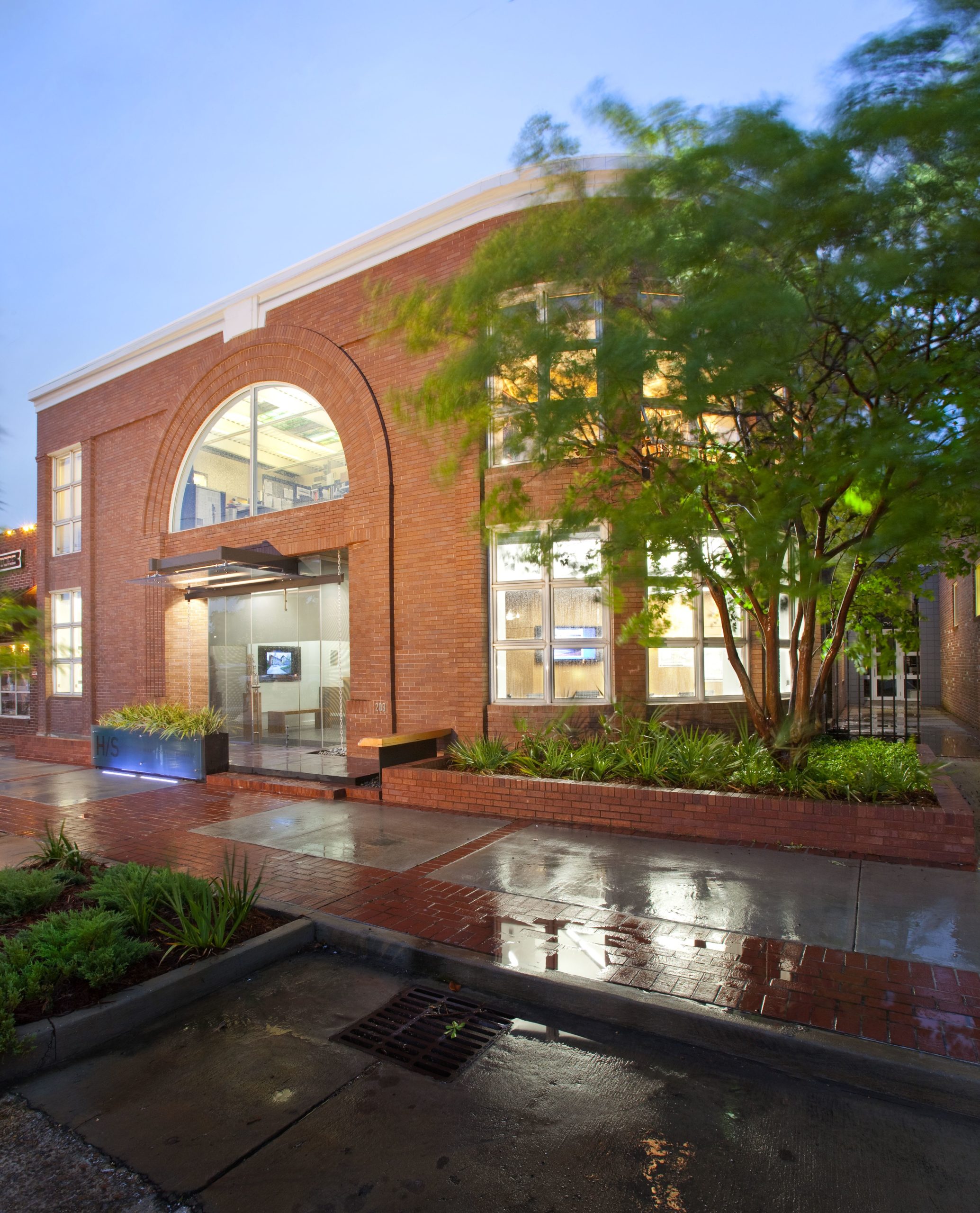 Holly & Smith Architects Office Renovation
As a follow-up to the H/S new brand image's unveiling in 2008, we completed a renovation of our Hammond office's exterior storefront, lobby, and conference room. Holly & Smith Architects' main office in Hammond, Louisiana, was first renovated in 1984 when Michael Holly obtained an old building in historic downtown Hammond. At that time, the Hammond Downtown, including our building, was in serious need of repair. H/S's renovated office was one of the first buildings renovated in what is now, almost 30 years later, a fully renovated historic district.
At the time, the building's renovated design responded to the popular design focus of Postmodernism. In the past, this approach had served the firm well, but as times have changed, the firm's design focus has changed. The new storefront entry is a more modern approach that utilizes cutting-edge structural glazing technologies to overcome an unfortunate unavoidable predicament, due-west exposure. The structural glass is composed of 2 layers of 3/8″ thick glass laminated with a PVB interlayer for impact protection, high-performance Low-E, and patterned with 1/8″ horizontal silkscreened frit lines. All of these factors allow a certain degree of transparency while still combatting the harsh due-west sun.
On the interior, a system of similar type glass suspended from above creates a ceiling within the lobby. This ceiling extends out of the front face of the storefront as a glass canopy above the 4" x 9" pivoting entry door. The reception desk has been fully redesigned, utilizing a 3″ thick heart pine top with black bronze facing. Behind the reception desk is a screen wall faced with alternating slats of antique heart pine and sinker cypress. Inserted within the slats are randomly placed slivers of 1″ thick blue acrylic. As a main focus in the lobby, a 52″ touch screen monitor was installed to displays images of H/S work and a touch screen interface to the H/S website.
The conference room has also been renovated to include new lighting, a full-height natural cork display surface, and a new conference table. The new conference table, custom fabricated from clear powder-coated steel and antique heart pine, rotates 90 degrees to allow for varying presentation scenarios.
The new entry spaces of H/S'sH/S's Hammond office portray the firm's passionately inspired design focus, which is rooted in a regionally responsive and progressive approach to architecture.