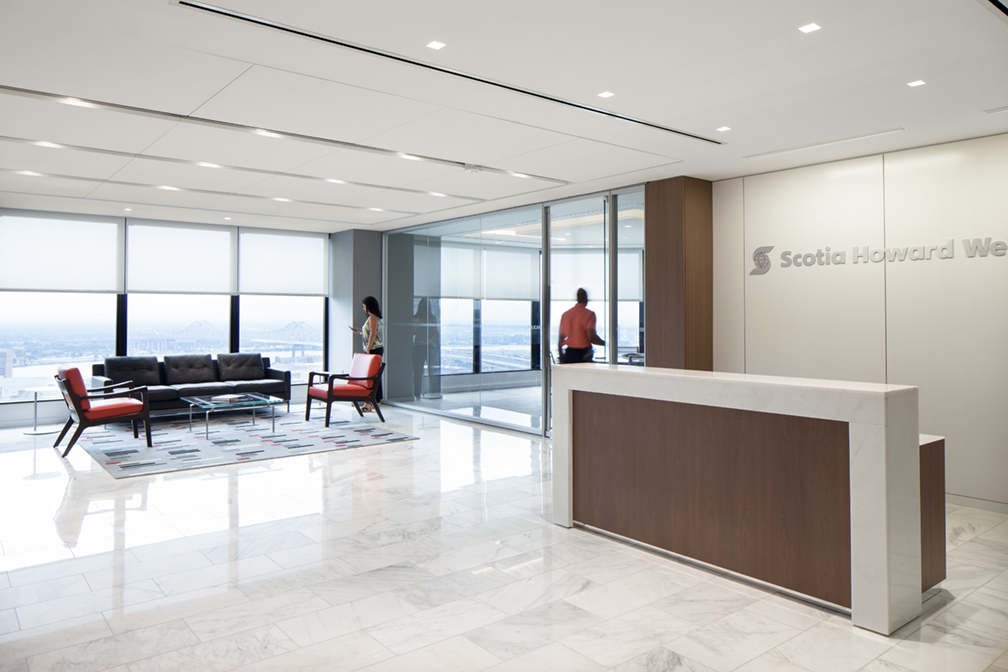 Scotia Howard Weil New Orleans
Scotia Howard Weil New Orleans is an energy investment boutique that provides equity research, institutional sales and trading, and investment banking services. Howard Weil was established in 1946. In 2012 it became part of Scotia Capital (USA), Inc., which is owned by Scotiabank, one of North America's premier financial institutions and Canada's most international bank. Scotiabank began updating the design standards for its offices worldwide, with New Orleans being only the 4th office to be updated. Holly & Smith Architects used Scotiabank's new design standards from its New York office (designed by Gensler) and incorporated those into the New Orleans office's renovation. The 16,000 square feet space was completely gutted and received a design overhaul. The new design is sleek and modern, boasting large open spaces with vast views of the New Orleans skyline.
The client areas include the lobby, board room, and conference room. The lobby space is open and inviting, providing ample room for hosting clients and other events. The white marble floors and white lacquer wood wall panels contrast nicely with the walnut wood veneer wall panels and concierge desk. The custom-made pivot doors into the board room provide a way to open the space to the lobby or close it off for private meetings. The conference room offers a space for smaller meetings while still capitalizing on the city skyline views. The boardroom table, conference room table, and the credenzas in both rooms were custom designed and built for this project. The employee areas include a large open sales and trading floor as well as private offices for the research department. Smaller phone rooms and breakout rooms are provided to allow for private conversations or small impromptu meetings. A moveable wall system was used for all glass walls and sliding glass doors at the offices. A large servery provides plenty of space for employee breaks and catered lunches. The investment banking department is located in an adjacent but separate space. Overall, the renovated space provides a modern design for a progressive, international company.