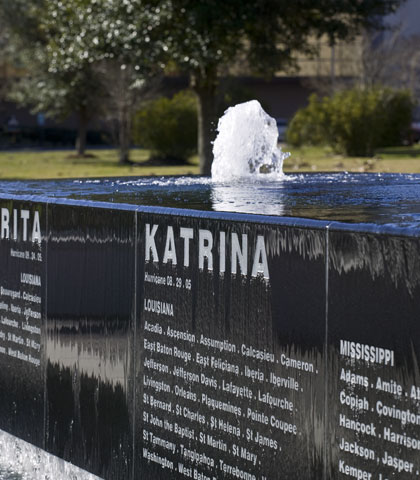 Southeastern Louisiana University: Memorial Fountain
The Southeastern Louisiana University memorial fountain is a tribute to the victims and to the citizens who responded in the wake of hurricanes Katrina and Rita that ravaged the Gulf Coast region. Southeastern Louisiana University played a large role in the recovery of the North Shore and the New Orleans region by providing higher education for displaced students after Katrina. ||When Southeastern reopened following Katrina on September 9, 2005, more than 1,500 students could not resume their studies, a figure that two years later stood at approximately 700. The university also enrolled more than 1,600 "guest" students from institutions displaced by the storms. University and SGA presidents from 10 of those universities were invited to attend the dedication ceremony on August 29, 2007, the second anniversary of Katrina.
In the heart of campus within the developing quadrangle, the memorial fountain features a raised profiled water jet granite carving of the Gulf Coast. The profile extends from Texas to Florida. Along the profiled coast, small holes quietly mark the landfall points of the two storms. Along the face of the memorial, carved in the base, is a list of States, Parishes, and Counties that were declared disaster areas due to the two storms.
In regular operation, the fountain's pool provides a perpetual overflow sheet of water across the south face and the names of the devastated areas. At timed intervals, jets located at the two storm landing sites provide increased water flow to envelope the entire surface and overflow on all four sides. Once the event has receded, the stillness and subtlety of the coastline profile of highly reflective black granite sit with a ghostly foreboding reverence.
In addition to being a memorial, the fountain contributes to an ever-developing quadrangle at the heart of campus. It is centered on axis with the Fayard Hall passage, one of the more significant campus entries.