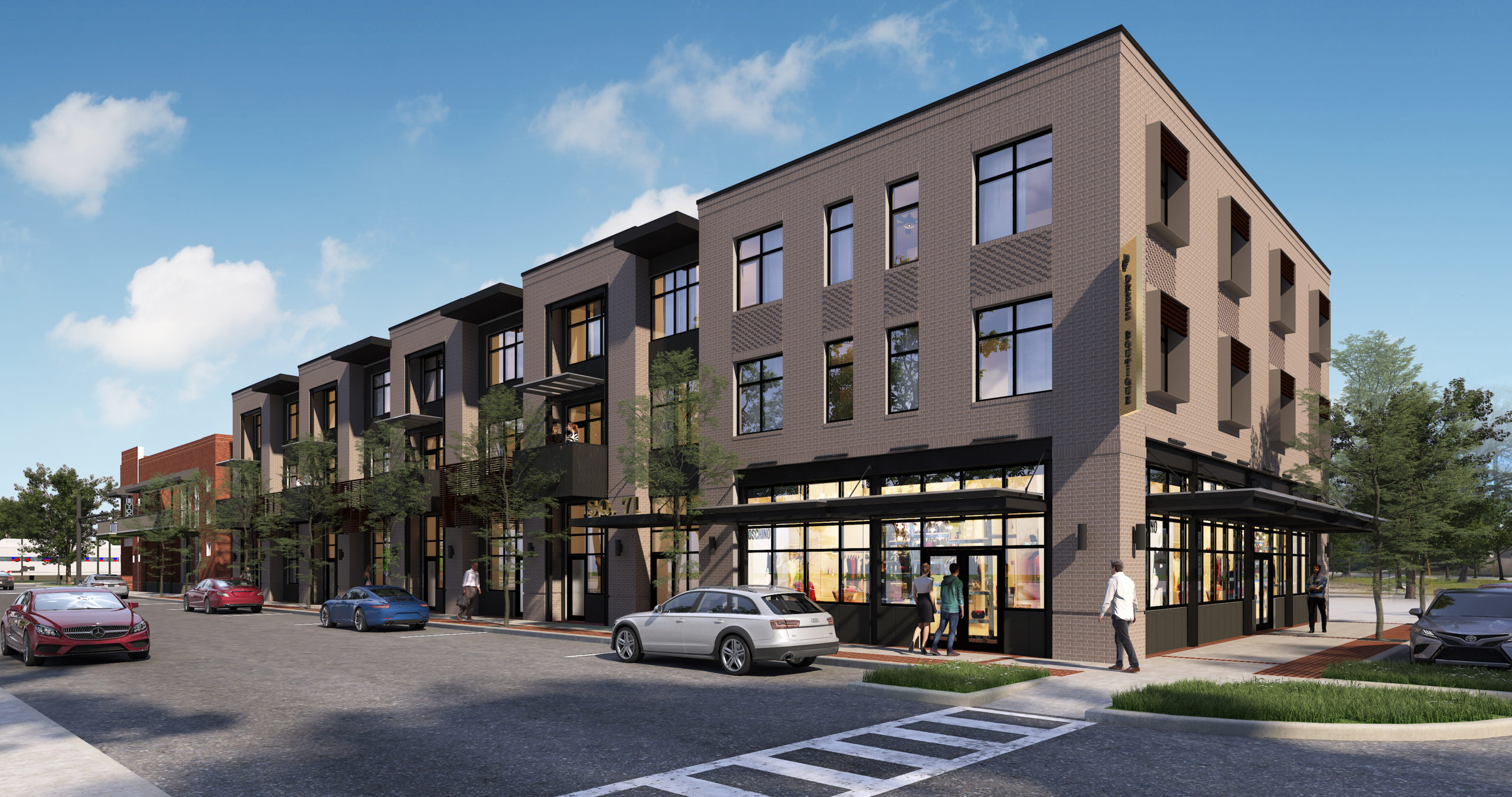 Square 71 Phase 2
Holly & Smith Architects is proud to announce a significant new development in the Hammond Downtown Development District (DDD). With recent concept approval by the Hammond Historic District Commission, the O'Krepki Family is expanding the Square 71 Development located at the corner of Morris Avenue and Railroad Avenue, which currently houses The Steak House, Downtown Yoga, two other commercial tenants, and three second-floor apartments. This two-story mixed-use building was designed in compliance with the Hammond DDD Masterplan and the City of Hammond 2011 Master Plan.
The planning principle is to locate the buildings close to the street property line and create pedestrian-friendly sidewalks and streetscapes. This planning concept creates beautiful outdoor rooms along the major arteries throughout the town, beautifying, and organizing the City as it grows. This encourages the "smart growth" concepts of a walkable community. This project will add to the national success of the Hammond DDD and be a catalyst for future development throughout the City. Why limit the success of planning principals to just the downtown area?
The new development will be a mixed-use three-story building with eighteen one and two-bedroom apartments and a 2,000 square foot corner commercial lease space on Morris Avenue and Oak Street. The building includes one-bedroom flats on the first floor, two-bedroom and two-bath townhouses on the second and third floor, and four loft units above the commercial tenant. Off-street parking behind the building and an elevator are part of this progressive new structure.
This is the second phase of the master plan for the block of Square 71, which will eventually encompass the entire block, incorporating the same planning concepts that placed the building at the street and parking behind the buildings.
We commend the O'Krepki family for their vision and investment into the City of Hammond and their commitment to the Hammond DDD and the Master Plan for the City of Hammond.