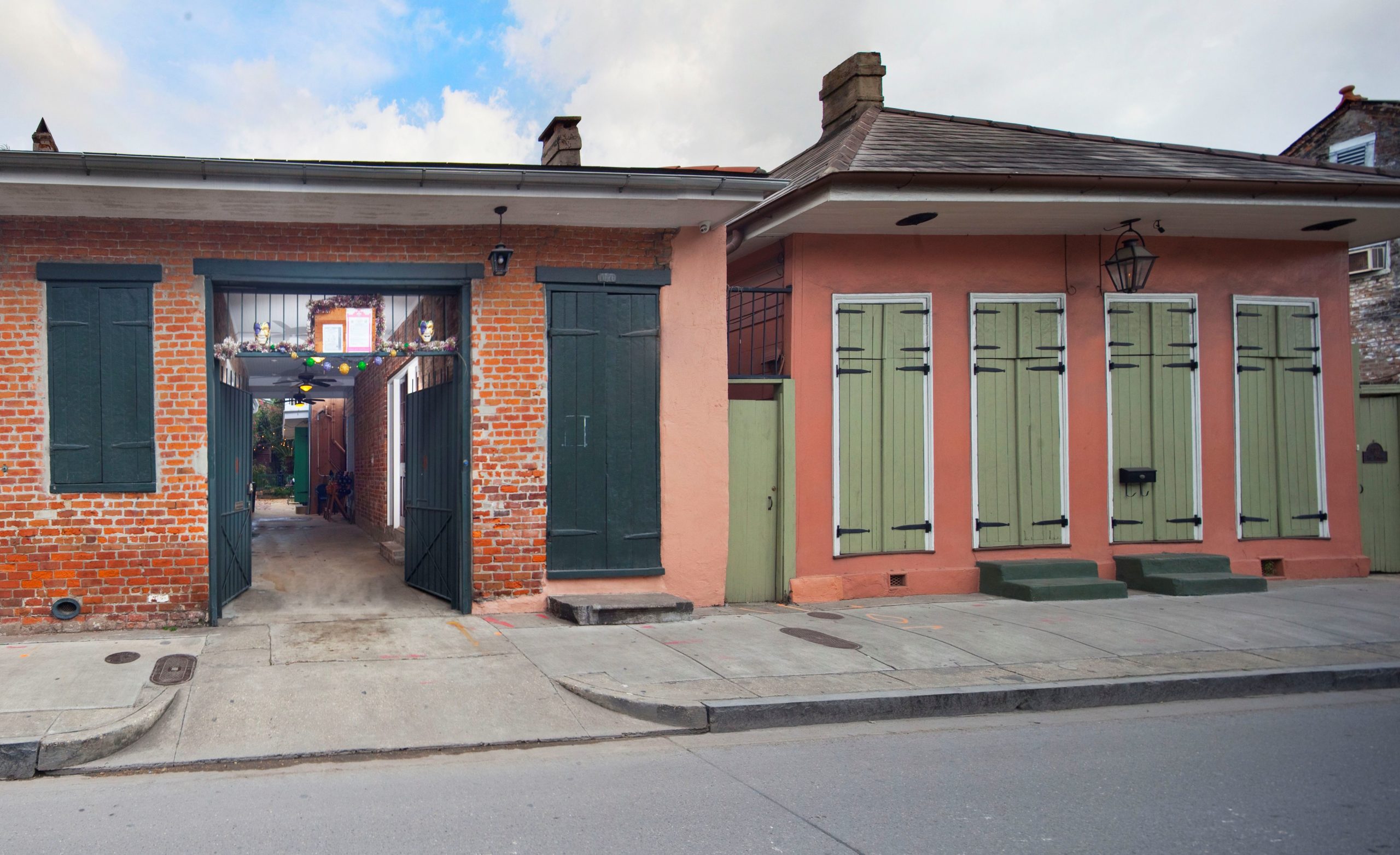 1026 Dauphine St. Renovation
This unique one-story circa 1860 brick creole cottage has four bays including an asymmetrically placed carriageway entrance that divides the building and leads to the deep courtyard and a 2-story service building in the rear courtyard. On the north side of the carriageway is a small ten-foot-wide space originally used as a funeral home. The narrow one-room space was hardly sufficient to accommodate a single occupant.
The design team added one bedroom with windows opening to the courtyard under the existing roofline to the west, and a low headroom loft was added above the kitchen and the bathroom. The south side of the carriageway was a larger one bedroom and one bath space. The design team added an extra bedroom and bathroom into the attic. The front façade along Dauphine Street was renovated meticulously to the original design. The two-story service building in the courtyard had a wood balcony overlooking the courtyard which was in a serious state of disrepair and required extensive refurbishing in compliance with Vieux Carre Commission regulations.
The poorly conceived previous interior renovation added an interior stairwell (original stair was on the exterior) to access the second floor. This renovation structurally compromised the 2-story masonry service building to the point where it was tilting significantly to the north, approximately 12 inches out of plumb to the top of the parapet. The design team designed a steel frame on the interior of the building to stabilize the masonry walls due to the removal of pilasters and floor joists that allowed the structure to tilt. The new stairwell was installed around the new steel structure and the run was reversed to allow more usable space under the stair adjacent to the kitchen area. The new air conditioning equipment was installed in full compliance with the VCC and the exterior units were removed from the upper balcony.