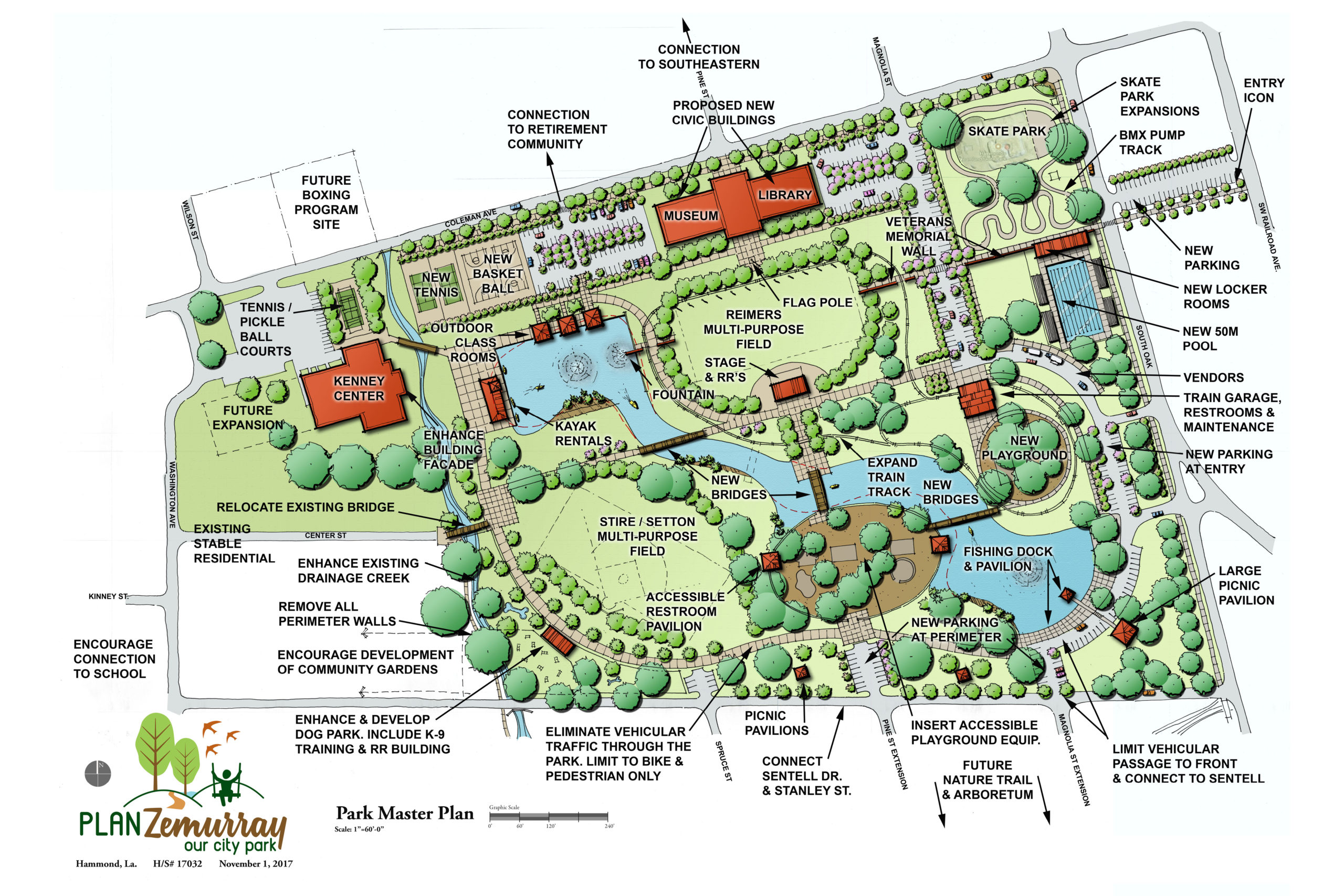 Zemurray Park Master Plan
The Zemurray Park Master Plan was conceived as a citizen-driven master planning initiative to modernize the City of Hammond's largest public park. The 33-acre park has seen very little change since its initial development in 1950's. The resulting Master Plan charts a new vision and roadmap for the redevelopment of Zemurray Park for the next 20 years.
The planning method was designed to include citizen input as a crucial aspect of the planning. Holding a week-long planning charette, the planning team, invited special interest groups, citizens, City Administration, and City staff all engaged in the planning and design brainstorming sessions.
The planning team adopted the motto, "Make No Little Plans." for the Charette week. Referring to it throughout the week, the team used it to inspire themselves, as well as community leaders and citizens as a call to dream big and bold ideas. This quote mas made famous by famed Chicago Architect and Urban Planner, Daniel Burnham in 1907.
The planners were asked to include a Social Media strategy into the master planning effort. Through social media platforms, citizens were able to follow the planning effort, see meeting schedules and dates, post comments and express ideas or concerns.
The final Master Plan is the consensus of several public meetings and recommendations from the Steering Committee. The Master Plan recommendations span from the siting of major civic buildings in the park to the elimination of vehicular access within the park boundaries. The new Master Plan vision focuses on park accessibility, new and improved amenities, convenient parking along with enhanced park security.
The Master Plan is a culmination of months of planning, public meetings, plan revisions and development and policy strategies, and its recommendations are a bold new vision for what the planners call "Hammond's City Park," a Park for all of Hammond's citizens.