Michael Shares His Unique Recipe for Shrimp Bisque
We hope you have had a chance by now to have tried out Katie's Pumpkin Bread, Mary's Syrian-Lebanese Risbishadia, or Ryan's Banana Nut Bread recipe over the last few weeks.
Since we all have found ourselves quarantined in our homes with much (or little) to do and have gotten all the yard chores completed, it might be time for a challenge……some gourmet cooking!
Michael Holly, Principal Architect at H/S, has studied various recipes for Shrimp Bisque and come up with his very own approach, which is a mixture of multiple recipes. This is his go-to recipe for Shrimp Bisque. We must warn you, however, that it takes time and patience, something we may all have during this time, alone together, but I assure you the outcome will thoroughly impress your diners!
Shrimp Bisque
Ingredients
1 1/2 pounds jumbo shrimp (cut into ¼ inch pieces leaving a few whole)
3 tablespoons extra-virgin olive oil
1/2 cup unsalted butter
3 stalks celery, cut into 2-inch pieces
2 leeks, trimmed, halved lengthwise, and rinsed well
2 carrots, cut into 2-inch pieces
1 clove of garlic (chopped)
Seafood Stock (enough to cover vegetable/shrimp mixture)
2- strips orange zest
1 large bay leaf or 2 small bay leaves
2 tablespoons tomato paste (This is for color add to the color you like!)
1/4 cup brandy
3 tablespoons all-purpose flour
4 cups heavy whipping cream
Salt, as needed to taste
Tony Chachere's Creole Seasoning to taste (please know that this seasoning has salt in it)
Freshly ground black pepper, as needed, to taste
Finely grated orange zest, for garnish
Finely chopped fresh green onions & parsley for garnish
A light dusting of Old Bay Seasoning for garnish
Directions
Step 1 – Peel and Devein Shrimp
Peel and devein the shrimp
Place the shrimp in a covered bowl and put into refrigerator. Keep them cold!
Reserve the shells. If they came with heads, discard the heads, keep the shells, legs, and tails, do not wash any of these and keep refrigerated until used.
Step 2 – Sweat the Vegetables & Shrimp Shells
Heat olive oil and butter in large heavy pot over medium heat.
Then add shrimp shells, celery, leeks, carrots, orange zest, bay leaf, and tomato paste.
Cook, stirring occasionally, until shrimp shells are red in color and vegetables are soft.
That takes about 10 minutes depending on the level of heat.
Step 3 – Flame with Brandy (be very careful, it is a real flame!)
Remove the pot from heat and pour the brandy in a circular motion (not all in one place).
Using a long kitchen match or lighter, ignite the brandy and let it burn until the flame subsides. Flame will be blue and slight, but it will be there. Allow to completely burn out.
It is important to be very careful. Please make sure you have full control. Do not have any flammable substances in the immediate area. Take the necessary precautions to not burn yourself or anyone around you.
Step 4 – Cook with Seafood Stock & Cream
Return the pot to the stove with medium heat.
Stir in the flour and cook about 2 minutes, mix thoroughly.
Add enough stock to cover.
Use a wooden spoon and scrape any brown bits from the bottom.
Add cream and bring to a light boil, then reduce to a simmer.
Add garlic, Tony Chachere's Creole Seasoning & black pepper to taste (maybe a small portion of Old Bay Seasoning).
Cook over low heat about 30-45 min. until reduced and thickened.
Step 5 – Strain the Mixture to Keep only the Cream Sauce
After the mixture is to a consistency that is creamy but not too thick, strain it with a fine screen (you can use a colander as a first strain, but there will be too many particles that get through). Use a fine screen for the final screen.
Discard the vegetable / shrimp shell mixture.
Then season the cream broth to taste with salt and pepper and Tony Chachere's Creole Seasoning.
Step 6 – Add the Shrimp & Poach
Notice, that the shrimp are yet to hit the pot!
Once you have this cream base prepared it can be stored in the refrigerator until needed or you can go right into adding chopped shrimp cut into 1/4-inch pieces (I like to leave a few whole to add to each serving).
If you made it ahead of time, heat the strained bisque to a simmer, add the shrimp and cook for about 3 minutes or until cooked through.
Step 7 – Garnish & Serve
Divide the bisque into bowls, garnish with:
A sprinkle of Old Bay seasoning.
A pinch of grated orange zest.
Some chopped green onions and parsley.
An alternative approach is to add a small swirl of a flavored oil that you like rather than the Old Bay, but I prefer the Old Bay!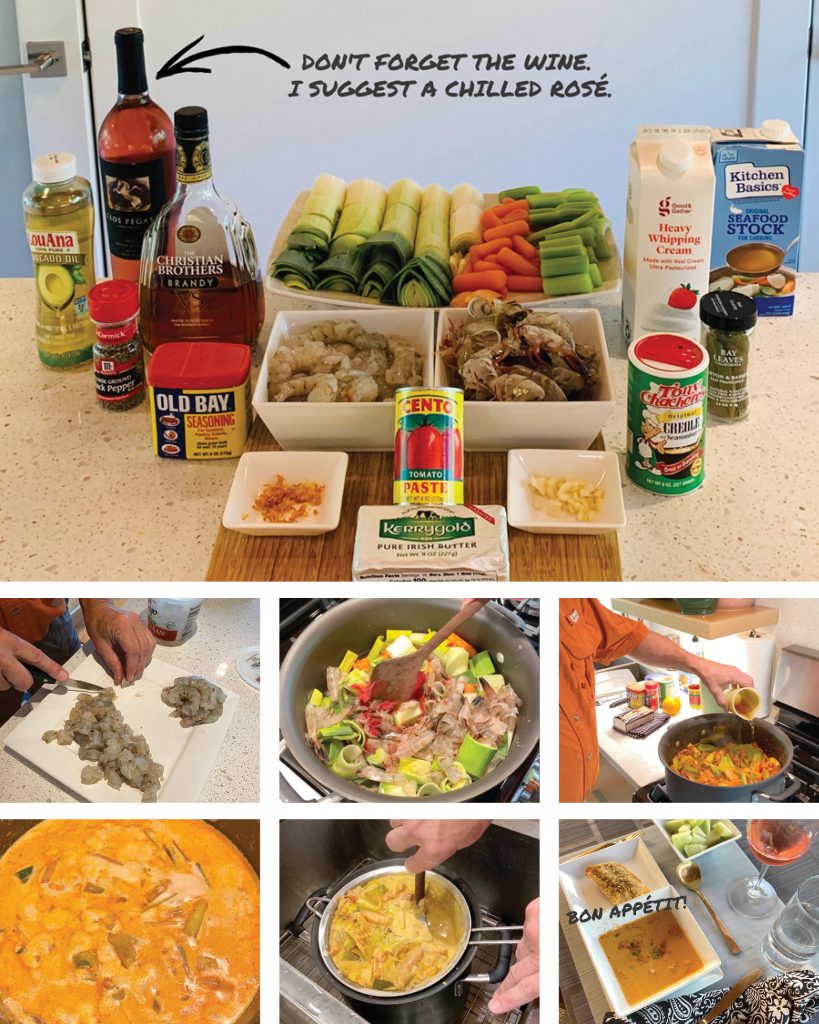 FEATURED STORIES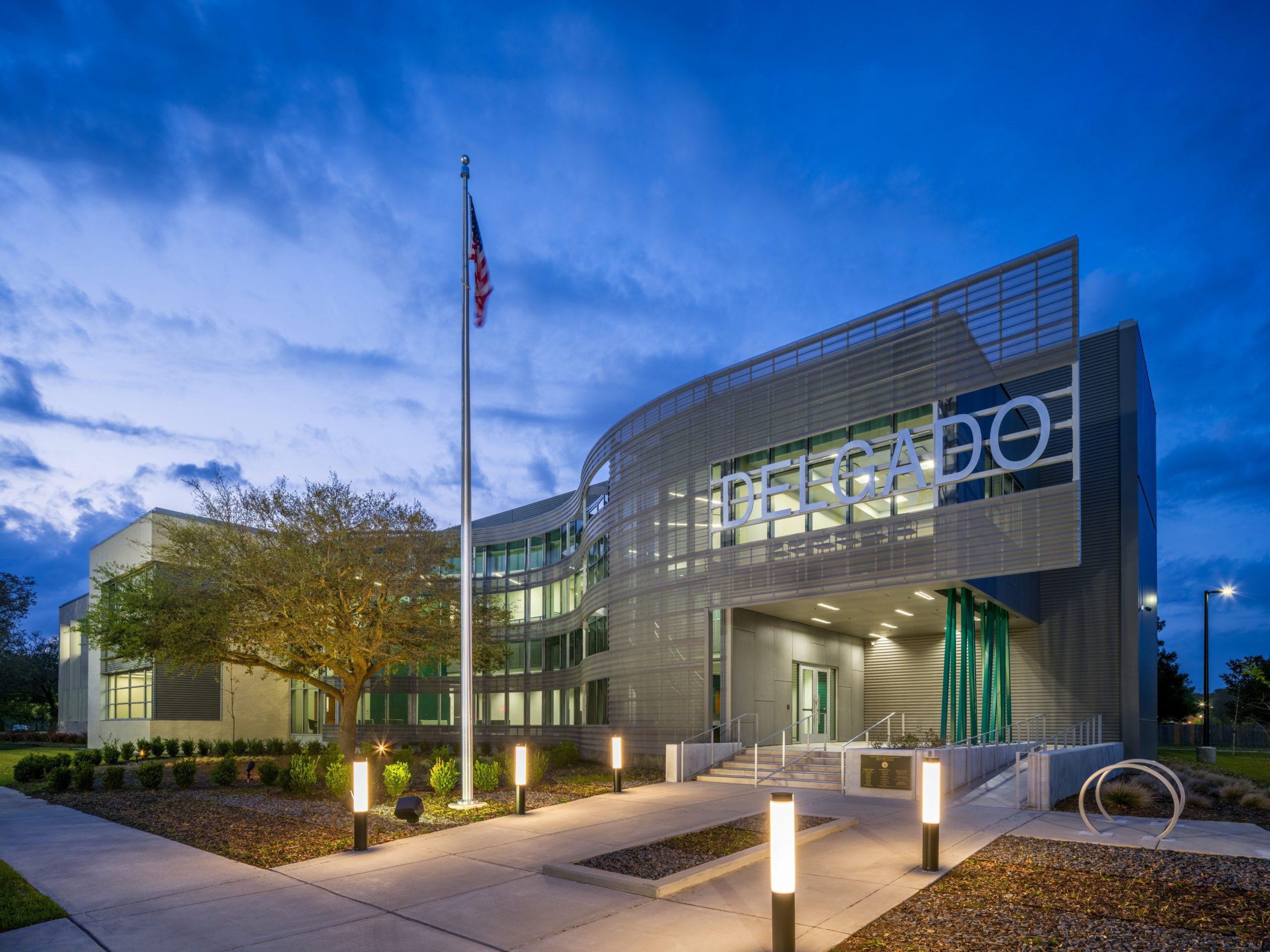 August 3, 2022
On Thursday, July 14th, AIA New Orleans held its annual Design Awards ceremony. Each year their awards program accomplishes three simple yet invaluable goals: celebrate the best of this region's architecture, recognize achievement in a broad range of architectural work,......